Outline of the facility
Heavy ions (carbon ions) are accelerated up to 70% of light speed and are subsequently irradiated into deep tumors within the patient. The procedure is painless.

The medical accelerator being introduced into Gunma University is designed as a relatively compact prototype for installation in several regions throughout Japan. This project has received worldwide attention from health officials and experts in radiotherapy.
Inside the heavy ion irradiation facility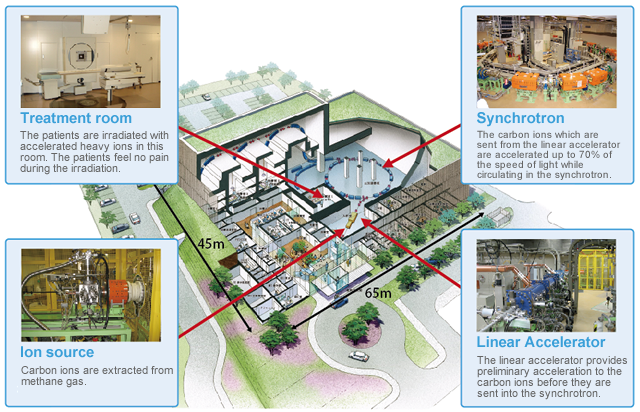 Outline of the Physical Facilities
Site
Gunma University Showa Campus, Maebashi, Japan
Construction
Structure Reinforced concrete, partially steel-framed
Number of floors
1 below and 2 above ground
Building area
3130 ㎡
Total floor area
6280 ㎡
Main rooms
Lobby, waiting room, control hall, irradiation room 1 (horizontal port), irradiation room 2 (horizontal and vertical ports), irradiation room 3 (vertical port), irradiation room 4 (vertical, R&D port), dispensary room, CT simulator room, staff room, conference room, accelerator room, machine room.
Construction schedule
April 2006
Basic design of the facility
January 2007
Contract for apparatus
August 2008
Device carrying
October 2008
Building completion

March 2010

Treatment System Installation
March 2010
Clinical trials begin